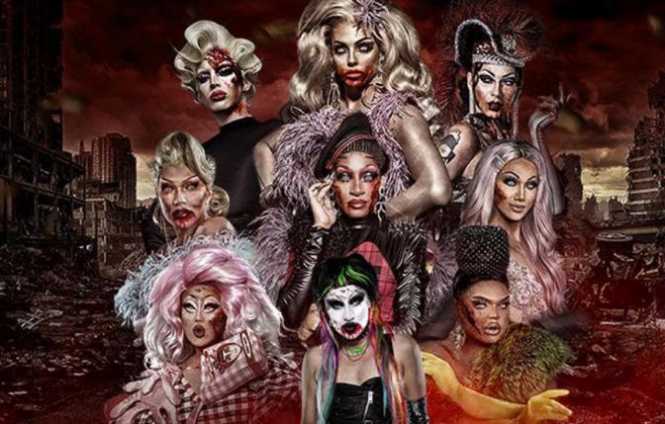 "Halloween costumes are absolutely a form of drag," says Rosé, who performs with seven other 'RuPaul'sDrag Race' vets in 'Night of the Living Drag,' a pumpkin month performance tour that makes its San Francisco stop at the Warfield Theater Oct. 25.
Viewing 1 thru 12 of 118 Stories
HBO's docuseries 'We're Here' returns for a second season with a moving batch of episodes which celebrate small town LGBTQ life as Shangela, Eureka, and Bob the Drag Queen descend on a variety of small towns across America.
The entire Oasis nightclub becomes a stage when a new and innovative production of the 'The Rocky Horror Show' opens on October 7, with D'Arcy Drollinger as the 'sweet transvestite' mad scientist Frank N. Furter.
Perhaps the most visually striking lead Arts feature of 1993 showcased the Sisters of Perpetual Indulgence. Tim Farrell interviewed members of the drag nun collective who were banned from the March on Washington stage.
LA-based, globally known drag queen Sherry Vine is always on the move, and she'll bring her wacky new song parody show to SF's Oasis Sept. 9.
Drag performers across the country will be taking part in a day of action this weekend to protest voter suppression laws being adopted by Republican-led statehouses throughout the South and Midwest.
The San Francisco Drag King Contest will commemorate its 25th year on August 22 with a rollicking show at Oasis. Drag king legend Fudgie Frottage will co-host the evening along with former presidential candidate, the fabulous Joan Jett Blakk.
Known for outrageous and unique performances, the late local drag performer Phatima Rude (Leigh Pankonin) will be remembered at a gathering on August 1 at Public Works.
Oasis hosts Michael Phillis' new drag parody show, 'The Hand That Rocks the Crawford,' starring Matthew Martin as Joan Crawford in a mash-up of femme fatale '90s classic films.
Is there anything gay performer and Texas-native Todrick Hall can't do? He sings. He dances. He writes songs. He acts on Broadway, in movies, and on TV. He's also an outspoken activist, and discusses his new album, 'Femuline.'
In her new book, 'Girl Shock', Maria Konner lets it all hang out. A TV host, musician, activist and sexual adventurer, Konner has lived a colorful life and has had a great time doing so.
Dive in to a hundred hours of nonstop drag and more as Oaklash serves up three days and nights of performance, DJ sets and panel discussions streamed from SF's Oasis nightclub.
Linda Simpson's epic pictorial stroll down Drag Queen Memory Lane captures that golden age of nightclub culture occupying the 1980s and '90s where creativity and fierceness combined in kaleidoscopic ways.
Viewing 1 thru 12 of 118 Stories