Bestie Sexys - Ongoing and missed erotic outlets
Wednesday Apr 3, 2019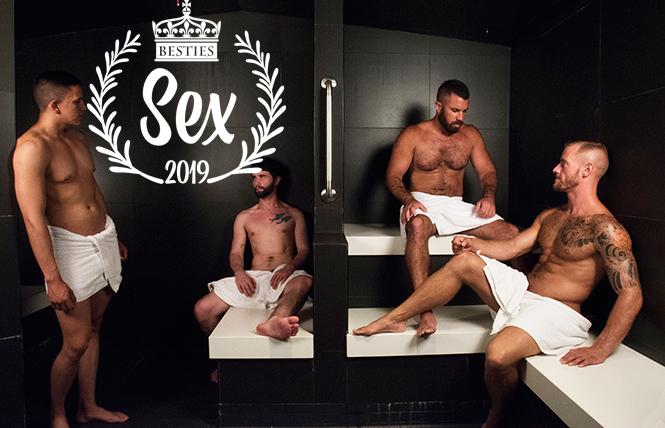 Having once again been chosen to give our loyal readers the results for our search of the best of the best of businesses in the Bay Area, I shall address our wants and needs concerning our sexuality. These businesses help you embrace it, whatever it is. We want you to embrace, engage with and utilize them while you still can.

Best Sex Venue: Steamworks Berkeley
The temple of gay male sexuality, Steamworks Berkeley is a venue that creates the setting for you to execute your skills with multiple men, all day, into the night, all night! The music and special events combine to take you places within your psyche that may heal you.
2107 4th St., Berkeley. www.steamworksbaths.com

Runner-up: Blow Buddies
Our readers have voted Blow Buddies their number two choice for special spaces. All of the kink, raw and fetish, combined with its SoMa location, allows patrons to truly take and give the blow-by-blow. Recent news of the building's possible sale should serve as a warning for patrons to enjoy such a space while they can. 933 Harrison St. www.blowbuddies.com

Runner-up: Eros
One of the most wholesome, safe, reputable, convenient and very comfy spaces in San Francisco's storied history, Eros is so romantic, a most excellent place for safe sex with someone whom you may want to get to know very well. It's also a convenient venue for that no-host hookup, where you want to create an aura of sensuality. 2051 Market St. www.erossf.com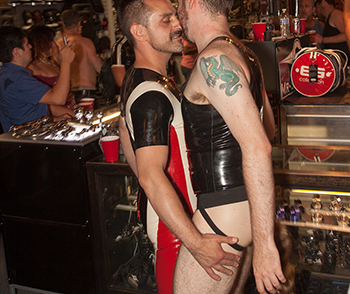 Best Sex Shop: Mr. S. Leather
Mr. S. Leather is the locus sanctus of LGBTQ sexuality. Just walking into the place makes you want to remove your clothing and do you and everyone around you. The air itself is charged with sexuality. Between you and your charge card, you can purchase the goods that get you the goods, from rubber bests to cock rings, ass-less shorts and more. 385 8th Street www.mr-s-leather.com

Runner-up: Good Vibrations
An idea that a business can be so helpful, so friendly and knowledgable and all-encompassing, with its holistic understanding, can occur only in San Francisco. With multiple locations, Good Vibes normalizes sex toys and sexuality in such a beautiful setting that is quite moving to experience.
603 Valencia Street www.goodvibes.com

Runner-up: Does Your Mother Know?
One of the jewels of The Castro District, particularly in the evening, this store is nestled snugly between popular bars, restaurants and cafes. DYMK provides an excellent vibe, particularly for those last-minute purchases, from gag gifts to gifts upon which you can practice your gag reflex. 4141 18th Street. (415) 864-3160


Cruisiest Event: Underwear Night at 440 Castro
Thongs! Boxer briefs! Tighty whiteys! 440 attracts men in a space with excellent music. This is truly a what-you-see-is-what-you-may-get situation. If you've been focused about your New Year's resolution to get into shape, break out that new underwear in a flattering primary color and show your assets in their best light. 440 Castro Street. www.the440.com
Runner-up: Junk at The Powerhouse
It's just so sexy. It's just so dirty. Don't even try to resist cohosts mrPam and Dulce De Leche. Do what you came to Junk to do, and bring your tip money for the bartenders and gogo boys, or strip down to compete! This is what a gay bar is supposed to be at night. So push away from your computer screen and shake what your momma gave you. 1347 Folsom Street. www.powerhouse-sf.com

Runner-up: Pound Puppy at The SF Eagle
Leave it to the San Francisco Eagle to host the best event for the huge socio-sexual phenomenon of blending sexual kinks with DJed grooves and casual cruising. The trend has thrown off the old guard a bit, but it has become a seriously legitimate part of gay male bonding, and let's face it; Game of Thrones is in its final season. 398 12th St. www.sf-eagle.com

Honorable Mention: Atlas events
More than a dozen voters this year commented that Renegade, the weekly Sunday event at Atlas, is becoming the hot new event. My spies tell me that the proprietors keeps the cruisy events pumping through the week. Truck Tuesdays, Daddy's Boy and Pac 10 are other sexy events at Atlas. I, myself, am extremely curious and will conduct a personal inquiry into the happenings that will give me the Monday hangover that is so needed in my life. 415 10th Street. www.eventbrite.com/o/daddys-boy-17339458482
In Memoriam: The Nob Hill Theatre
For decades, the Nob Hill Theatre was singular in creating intense sensations for gay, bisexual and bi-curious men the world over who enjoy a hot strip show and lap dance. The professional lighting, mood-inducing music, sizzling porn stars, hot house dancers and horny patrons are so iconic that its closing boggles the mind, still.

Cultural anthropologist Bob Mathis-Friedman commented, "Had they advertised more, it could have been even more famous. It was an insanely perfect blend of sex, culture, entertainment and serious money. You will not see that again in San Francisco for a very long time, if ever again."