Bestie events: Days and nights of future, past
Thursday Apr 2, 2020
They say absence makes the heart grow fonder, and while we shelter in place we remember the events of the last year that were the pinnacle of our reader's experiences. And so, though we cannot partake of them now, we can happily remember them with joy and look forward to the fun we will have when they next happen. Celebrating the past year and with an eye toward the future, let's bring on the event winners.

Best Nightlife Event — Cubcake at Lone Star
Runners up: Mango at El Rio, Disco Daddy at Eagle
Cubcake is a perennial fun furry favorite of Bay Area Reporter readers, having won the Best Bar Theme Night just last year. But this year the cubs, otters and baby bears (and their fans) have earned the top prize in this year's events — and there's no need to wonder why.

With its home at The Lone Star, renowned as the birthplace of bear culture, Cubcake draws attention from around the world, even getting mentions in European newspapers. With events like the Bay Area Cub Contest (with appearances by the Boys of Bearlesque) and DJs like Joe Prince Wolfe, Bryan Hughes, Paul Goodyear and E.Feld, Cubcake gets more and more popular every year.

Is it the gummy bears, the Jello shots or the cubs? Maybe it's all three. Cubcake remains the beary favorite with our readers by keeping it fresh. Their virtual Cubcake and fundraiser takes place April 10.
www.lonestarsf.com www.gofundme.com/f/help-lone-star-saloon
Best Drag Show — Dandy at Oasis
Runner's up: Mother at Oasis, Monster Show at the Edge
Surprise! Drag Kings rule — at least as far as the Besties voters are concerned. San Francisco's premiere Drag King revue, hosted by Leigh Crow and Ruby Vixen, has snatched the crown from last year's winner Mother (and you know that's not easy to do!).

"Now I just wanna confirm," asked Leigh Crow, co-impresario of Dandy, on learning about her Bestie, "This is an award for overall Drag Show not Drag King Show?"

That's right. Bay Area Reporter readers recognize that drag transcends tucking. "This is so significant!" crowed Crow, who runs the show with partner Ruby Vixen.

"We feature mainly performers who were assigned female at birth. I mean you can't find many mostly female casts on Broadway or TV or movies, so for us to win as a gynocentric drag show is amazing!"

It could be that sense of parody or just the wild frenetic fun, but whatever it is, Dandy has truly struck a chord with our readers. Note that Dandy's next event, "Dandy: Boys in the Band" (A Drag King Boy-Band Spectacular), which was scheduled for April 25 at Oasis, is currently on hold due to the Covid-19 shelter in place. Check back at Dandy's Facebook page, www.facebook.com/DandyKingsSf/, to see when the event is rescheduled.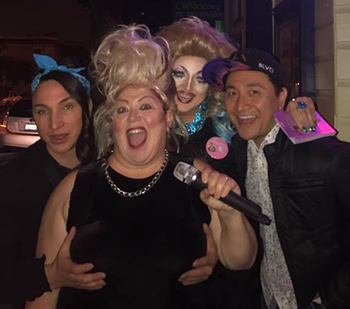 Best Game Night — Miss Kitty's Trivia Night at Wild Side West
Runners up: Gaymer night at the SF Eagle, Gaymer night at the Midnight Sun
For the second year in a row, Miss Kitty wrests the award from the Gaymers, and who could be surprised with the succinct command "Win Booze and Bragging Rights!" Add one part comedy stand-up show, one part fierce team competition and lots of wacky irreverent fun and you've got a recipe for success as Kit Tapata has proved for more than five years at her wildly popular Wednesday night event. With the bar closed for now, consider donating to their staff fund at www.gofundme.com/f/kxxky6-tip-your-bartender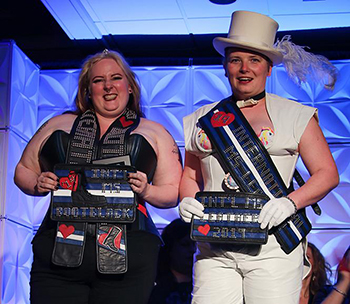 Best Leather Event — International Ms. Leather and International Ms. Bootblack
Runners up: Folsom Street Fair, Up Your Alley Street Fair
International Ms. Leather and International Ms. Bootblack make a long-term impression on its attendees, as is witnessed by the fact that the event usually happens in April and yet is still in the minds of Bestie voters the following March.

Last year's event included a Seduction Thursday night as well as contests on Friday and Saturday nights. The B.A.R.'s leather-kink columnist Race Bannon calls this weekend "one of the key national events for leather and kink women and their friends" and notes that it is "one of the better run conference-style events" and clearly our readers (and Bestie voters) agree.

Bannon also notes that the event is inclusive for everyone along the gender and orientation spectrum, and this is clearly welcome for the events fans. It is also noteworthy that the winner of our Best Leather Event is an event that takes place in San Jose, as opposed to the runner-ups in San Francisco. Note that this year's contest date is currently in flux due to Covid-19, so to see what has made this event special you should keep an eye on their website, imslbb.org.

(Jim Gladstone contributed to this article.)


Editor's note: If you liked this article, help out our freelancers and staff, and keep the B.A.R. going in these tough times. For info, visit our IndieGoGo campaign.
Comments on Facebook