Bestie Eats: adjusting, closing and to-go
Thursday Apr 2, 2020
"Pantry Raid!" In brief, that describes what we've been eating of late, as most of our restaurant meals have been Covid 86'd. But when the lockdown finally ends and we're able to get out and about to socialize over our vittles once again, this year's Restaurant Besties will be here to help:

That doesn't just mean helping you break free of cabin fever with great suggestions, it means helping the waitstaff and kitchen workers of our city get a much needed infusion of income. Plan on ordering dessert, an extra cocktail, another app to share with the table. And for the good of your soul and others' livelihood, tip generously.

Some of this year's winners are open for take-out or delivery during the current quarantine, and they're as hungry for support as you are for something that's not from a can or your freezer. You can also pledge support —and help provide a light at the end of the tunnel— by using OpenTable, Resy, Yahoo and other online reservation services to book spots, and commit to keeping those reservations for late April and beyond.
Best Castro Restaurant: Blind Butcher
Runners up: Catch, Lark
Castro restaurants are highly dependent on traffic at nearby bars and clubs for their clientele. All three of our winners are currently closed, with no to-go or delivery options. Blind Butcher was a welcome newcomer to the neighborhood this past year, bringing steakhouse fare to an unexpected location.
4058 18th St. www.blindbutchersf.com

Best Brunch: Kantine
Open for takeout and delivery, 8am — 2pm T-F, 9am -2pm Sa.-Sun.
Runners up: Hamburger Mary's, Wooden Spoon
The success of two-year old daytime-only Kantine is a testament to B.A.R. readers' willingness to welcome new cuisine to the Castro, even while falafel, burgers and pizza continue to dominate. Copenhagen-trained chef Nichole Accettola cooks up clean and vibrant Scandinavian baked goods and brunch delights, including breads, pastries and open-face Smørrebrød sandwiches like house-smoked trout with dill and pickled onions or curried herring with apples. For adventurous eaters, her savory porridges are a must. Order in some hygge this weekend.
1906 Market St. www.kantinesf.com

Best Late Night Restaurant: Lers Ros
Open for takeout and delivery; last order 10:15-10:30 pm
Runners up: Orphan Andy's, Grubstake
With three Lers Ros kitchens —in the Mission, Tenderloin and Hayes Valley— all continuing to cook up a long menu of authentic Thai dishes through the shut-down, orders won't have to travel cross town to get to your door. When dine-in hours re-start, the Larkin Street location will once again be open to midnight, and the others until 11 pm. Stalwart diners Orphan Andy's and Grubstake are both closed for the time being. Here's hoping our hangouts can hang in there.
Lers Ros, Mission: 3189 16th St. www.lersros.com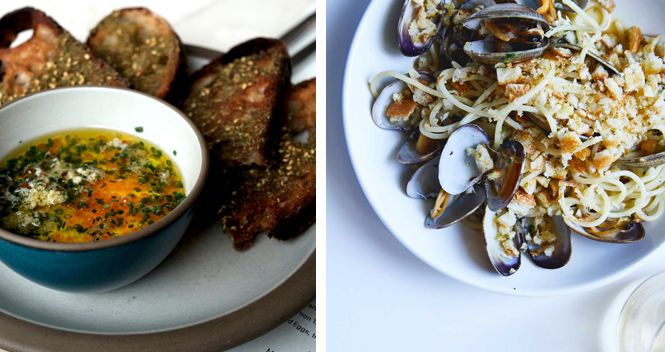 Best Upscale Restaurant: Tartine Manufactory
Open for takeout and delivery, 9am-5pm
Runners up: Flour & Water, Frances
While our runners up are closed for the moment, the Mission flagship of the Tartine empire is still baking up a storm of breads and pastries as well as offering semi-prepared finish-at-home dishes at lower price points than their usual menu entrees, including sous vide short ribs ready for searing and pre-brined whole chickens. Pick-up orders can be placed several days in advance online. 595 Alabama St. www.tartinemanufactory.com

Best Italian Restaurant: a Mano
Open for takeout and delivery, Noon-8pm
Runners up: Poesia, La Ciccia
Patrons of Hayes Valley's a Mano seem to be fond of dining at the restaurant's always packed sidewalk tables. For now they'll have to take things a little further al fresco, but popular pastas including rigatoni and pork sugo and pesto fusilli were always pretty homey anyhow. The Castro's upscale Poesia is also open for delivery and take-out. Noe Valley's Sardinian delight, La Ciccia, has put its kitchen on hold for the moment. 450 Hayes St. www.amanosf.com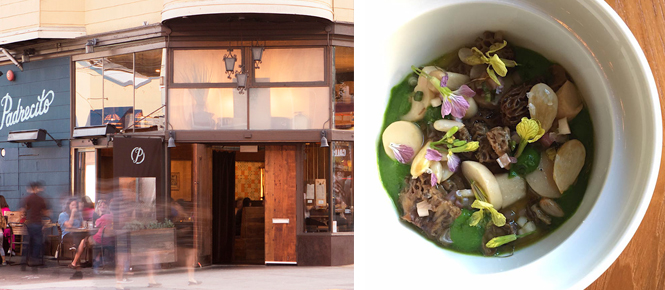 Best Mexican Restaurant: Padrecito
Runners up: Puerto Alegre, Nopalito
Our winner and first runner-up are in a Mexican stand-off with the coronavirus. Nopalito's two locations were initially closed, but the restaurant's 306 Broderick Street location will open for limited take-out and delivery hours on Thursdays through Sundays beginning today (April 2), www.nopalitosf.com. Padrecito is at 901 Cole St. www.padrecitosf.com

Best Asian Restaurant: Mister Jiu's
Runners up: Mama Ji's, Izakaya Roku
Mister Jiu's, the elevated Chinatown delight is well worth a visit when it reopens. Brandon Jew's crown jewel could just as easily have won our Best Upscale Restaurant award. Meanwhile, his more moderate priced take on take-out staples Mamahuhu at 517 Clement St., is open for pick-up and delivery, Tues.-Sat, 5pm-9pm. www.eatmamahuhu.com
Mister Jiu's: 28 Waverly Place, www.misterjius.com
(Mama Ji's is open for delivery and take-out; Izakaya Roku is temporarily closed).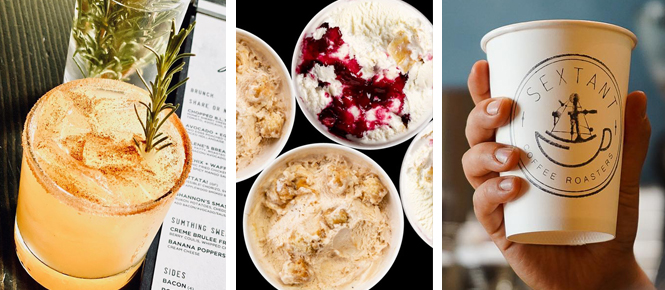 Best Bar Menu: Jolene's
Runners up: Hi-Tops, Lookout
Just because you've got a bar menu doesn't mean you're not a bar. But while we're all barred from bars, Jolene's regulars can still dream about the fried chicken sliders, tomato soup with grilled cheese and banana poppers for dessert, as well as the recent addition of drag performers to entertain you. 2700 16th St. www.jolenessf.com

Best Desserts: Salt & Straw
Runners up: Bob's Donuts, Mitchell's Ice Cream
Hey, sweet teeth, if nothing else, this is a great time to go on a diet! All your favorite sugaries are shut down. That said, fans of Salt & Straw's creative ice cream recipes who didn't make it in between March 1 and 13 missed out on their current monthly specials, which included Bone Marrow & Smoked Cherries (Ice cream flavor or naughty burlesque act?). Multiple locations. This text will be the link

Best Coffee Shop: Sextant
Open for takeout
Runners up: Philz, Wicked Grounds
SoMa's Sextant is a lure not just for java, but for its gently humming environs, well-suited for productive remote work. The latter is out for the time being, but Ethiopian beans, both brewed and bagged, are ready to pick you up from the doldrums. 1415 Folsom St.
Wicked Grounds and Philz' SF locations are closed.
sextantcoffee.com

Editor's note: If you liked this article, help out our freelancers and staff, and keep the B.A.R. going in these tough times. For info, visit our IndieGoGo campaign.
Comments on Facebook