Besties: Weddings & Destinations: Readers flock to Marshall's Beach
Wednesday Apr 3, 2019
Best Beach

Marshall's Beach
After this winter's deluges, a day at the beach is certainly in order. And for San Francisco residents, the easiest way to sprawl out on the sand is to head to this formally hidden away gay seaside spot.
The advent of the internet threw back the curtain on this local favorite where men bare all and romp among the rocks. Then came a hillside restoration project that added easily accessible pathways down to this spit of protected shoreline near the southern end of the Golden Gate Bridge.
Nowadays it is not unusual to see straight day-trippers and international tourists mingling with the gay beachgoers. Dogs are not permitted on the trail down to the beach or on the beach itself, though they are welcome at Baker Beach to the south.
"Rumor has it, some dare to go bare at the intimate Marshall's Beach, but whatever 'natural' aspects of this beach that entice you, this is one of the best places to take in a sunset over the Pacific Ocean," notes the Presidio Trust on its website for the national park site.
To learn more about Marshall's Beach, visit
https://www.presidio.gov/places/marshalls-beach.
Runner-up
San Gregorio Nude Beach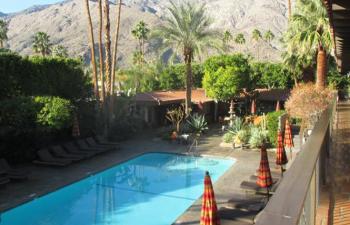 Best Domestic Getaway

Palm Springs
This perennial favorite continues to beckon fogged in Bay Area residents looking for a sunny sojourn. The desert oasis for decades has been a welcoming place for LGBT visitors.
Many end up staying, turning this Coachella Valley hotspot into a citywide gay retirement center. Its breadth of amenities, from shopping and dining to outdoor activities and nightlife, draws visitors the world over.
To plan your getaway, visit
https://www.visitgaypalmsprings.com/.
Runner-up
New York City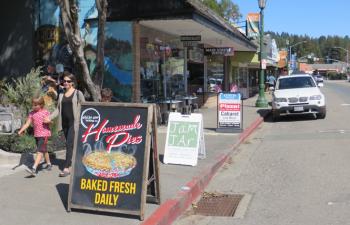 Best Local Getaway

Russian River
Another mainstay is Sonoma County's Russian River area. At its heart is Guerneville, with its gay-owned or gay-friendly lodging options and a Main Street revived in recent years by LGBT business owners.
The majority of the businesses survived the recent winter storms largely unscathed, though flooding in February submerged the LGBT-centric R3 Hotel. The resort has been busy rehabbing the property in order to welcome guests again.
A four-day fundraising event is being held over the Easter weekend, kicking off Thursday, April 18, and running through Sunday, April 21, to assist the locals who lost their homes or businesses to the flooding. Check out the R3 Hotel's Facebook page (
https://www.facebook.com/r3hotel/
) for a full list of events and how to donate online.
For more information, visit
https://gayrussianriver.com/.
Runner-up
Carmel/Monterey
Best Honeymoon Destination

Hawaii
With a number of airlines reducing fares on their Hawaiian flights now that Southwest is flying to the state from the Oakland and San Jose airports, it has never been a better time to plan a tropical honeymoon.
This island state in the middle of the Pacific Ocean has numerous options for same-sex couples looking to celebrate their vows. Oahu's gay-friendly Waikiki district offers a more metropolitan destination, while Maui boasts a number of LGBT-welcoming resorts. Those looking for a more secluded Aloha State honeymoon should consider renting a vacation home in the North Shore section of Kauai.
For more information, visit
http://www.gayhawaiiwedding.com
and
http://www.gogayhawaii.com/.
Runner-up
Paris
Best Place to Buy Wedding Rings

Shreve & Co.
This 167-year-old doyenne of San Francisco's main shopping district offers a wide selection of rings for both brides and grooms. One of the signature gems it offers are Fire & Ice Diamonds, which are cut to maximize the jewels' radiant light and sparkle.
Both the San Francisco and Palo Alto locations carry a wide assortment of wedding bands and diamond engagement rings created by Switzerland-based Furrer-Jacot. The Post Street location welcomes customers seven days a week as well as by appointment.
Shreve & Co., 150 Post Street, San Francisco. (415) 421-2600.
https://www.shreve.com/locations/san-francisco/.
Runner-up
D&H Sustainable Jewelers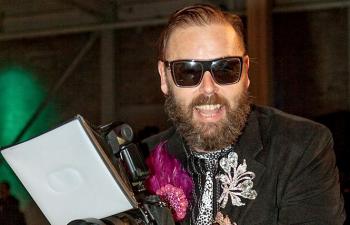 Best Wedding Photographer

Gooch
Longtime Bay Area Reporter photographer Gareth Gooch took home the top honor this year for being the person readers trust most to capture their special day. In addition to happy couples, numerous local nonprofits and event producers hire him to photograph their gatherings for posterity.
To see various examples of his work and contact information, visit his website at
https://www.garethgoochphotography.com/.
Runner-up
Steven Underhill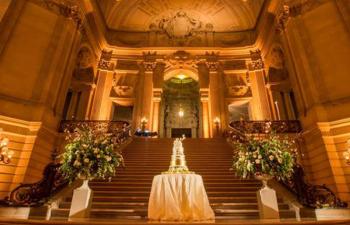 Best Wedding Reception Venue

SF City Hall
Couples tying the knot have various options for celebrating afterward inside San Francisco City Hall. The historic Beaux Arts building not only lends a location with grandeur to the occasion but also historic resonance.
After all, it was where the fight for marriage equality became supercharged on Valentine's Day in 2004 when then-mayor Gavin Newsom threw open the building's doors to gay and lesbian couples looking to wed despite questions about the legality of his doing so. His decision turned what had been a courtroom battle centered on legal arguments into a monthlong walk down the aisle featuring loving couples, some of whom had been denied the right to publicly declare their devotion to one another for decades.
For information about renting out the different venues SF City Hall has to offer, visit
http://sfcityhallevents.org/weddings.
Runner-up
Legion of Honor