Besties: Services and Shopping: B.A.R. readers mostly stick with the familiar
Wednesday Apr 3, 2019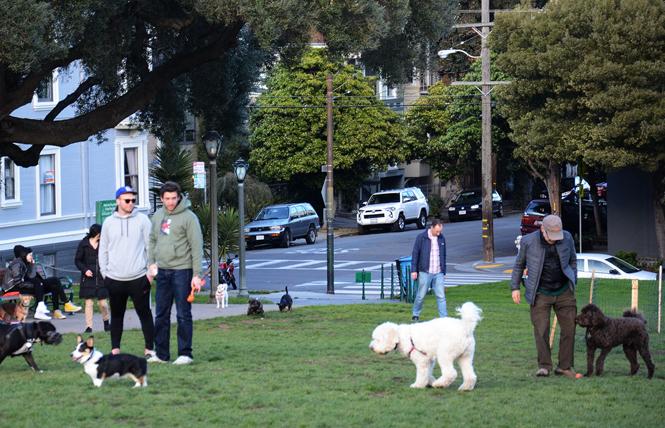 Best Dog Park

Duboce Dog Park
Duboce Dog Park in the Castro remains a favorite of Bay Area Reporter readers. There's space for pooches to run or meet new doggie buddies. It's also a great opportunity for their human companions to make new acquaintances or catch up with friends.
Duboce Park, Duboce and Scott streets.
http://sfrecpark.org/destination/duboce-park/duboce-park-dog-play-area/.
Runner-up
Bernal Heights Dog Park
Best Place to Pamper Your Pets

Mudpuppy's Tub and Scrub
After being retired from the Besties list last year, Mudpuppy's Tub and Scrub returned to the top spot. Co-owner Daniel Bergerac, the outgoing president of Castro Merchants, said he and his team were "thrilled" winning this category for 2019. Its website notes that "exceptional care and service are hallmarks of our business," which provides bath and grooming services for your canine companion. Locations are in the Castro and at the Point Isabel Dog Park in Richmond.
Mudpuppy's Tub and Scrub, 536 Castro Street, San Francisco and #1 Isabel Street, Richmond. 1-888-505-2998.
http://www.mudpuppys.com.
Runner-up
Doggie Day Spaw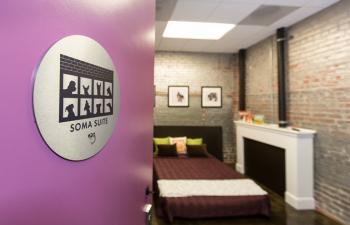 Best Pet Hotel
Best Doggie Daycare

Wag Hotel
Wag Hotels was the winner in both of these categories. The company is known for its comfortable digs for dogs (and cats). Services include day-care, boarding, training, playtime, and more. Wag regularly holds special events or classes to foster community and improve the human-canine bond. It's a great option for people when they go on vacation or a short-notice trip. Bay Area locations include San Francisco, Oakland, Redwood City, and Santa Clara.
Wag Hotels, 25 14th Street, San Francisco. 1-888-924-5463.
www.waghotels.com.
Runners-up
Hotel: Wag (Oakland)
Doggie Day Care: Mr. Muggles' Dogs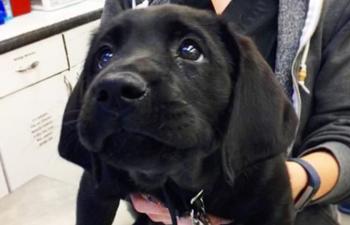 Best Veterinarian

Castro Animal Hospital
The Castro Animal Hospital just opened a couple of months ago and it's already a hit with B.A.R. readers. Co-owner and veterinarian Dr. Sarah Inman runs the practice. Her husband, Shane O'Mara, is a co-owner. The full-service animal hospital currently serves cats and dogs.
Castro Animal Hospital, 100 Church Street, Suite B, San Francisco. (415) 997-0147.
www.castroanimalhospital.com
Runner-up
Mission Pet Hospital
Best Auto Dealer
SF Toyota
Toyotas are very popular vehicles so it makes sense this dealership is a reader favorite. Whether you're looking for a conventional car or a hybrid, Toyota's got you covered.
www.sftoyota.com
Runner-up
BMW of San Francisco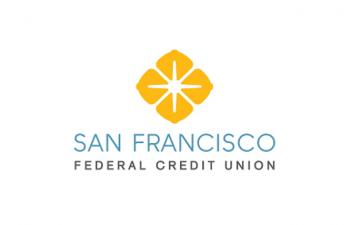 Best Bank/Credit Union

SF Federal Credit Union
San Francisco Federal Credit Union offers a full line of banking services, including home and car loans, checking and savings accounts, and retirement accounts. It has several branches in the city.
SF Federal Credit Union, 770 Golden Gate Avenue (at Gough), San Francisco. (415) 775-5377.
http://www.sanfranciscofcu.com.
Runner-up
Bank of America
Best Barbershop

This marks a consecutive win for Daddy's Barbershop, which offers plenty of barbers to choose from and is open until 8 p.m. on Fridays and Saturdays. Located in the heart of the Castro, guys can always stop by for a quick trim or a new style.

Daddy's Barbershop, 4102 19th Street, San Francisco, (415) 552-5101. www.daddysbarbershop.com.

Runner-up
Joe's Barbershop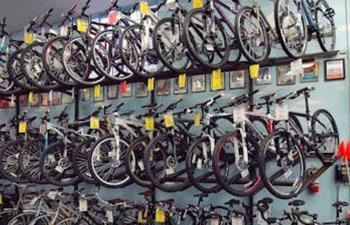 Best Bicycle Shop

Valencia Cyclery
Valencia Cyclery is a longtime readers' favorite. People like the service and selection of this store in the Mission district that has been under the same ownership since 1985. The shop provides full maintenance services and can repair just about any model of bike, from kids' to carbon fiber models.
Valencia Cyclery, 1065 and 1077 Valencia Street, San Francisco, (415) 550-6600 (sales) or (415) 550-6601 (repairs).
http://www.valenciacyclery.com.
Runner-up
Mission Bicycle Company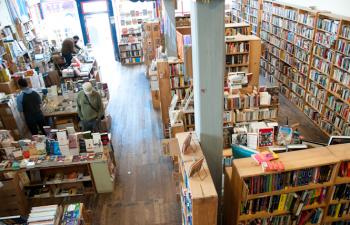 Best Bookstore

Dog Eared Books
Dog Eared Books returns to the winner's circle after a one-year absence. The store, which has locations in the Castro and Mission, regularly hosts events and has a great selection of new and used books. The store also buys books.
Dog Eared Books, 489 Castro Street, San Francisco. (415) 282-1901.
http://www.dogearedbooks.com.
Runner-up
Green Apple Books
Best Place to Buy Furniture

Room & Board
This is a new category and readers selected Room & Board as their favorite. The San Francisco location is "in the vibrant SOMA neighborhood," the website states. "Originally a warehouse that dates back to the 1950s, Room & Board San Francisco is a modern furniture store that has since been restored into a bright, beautiful furniture shopping experience," the site says.
Room & Board, 685 Seventh Street, San Francisco. (415) 252-9280.
http://www.roomandboard.com.
Runner-up
Stag & Manor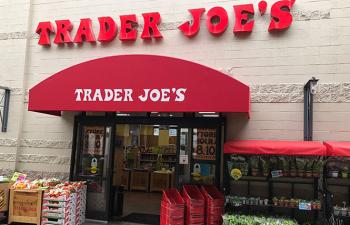 Best Grocery Store (Chain)

Trader Joe's
Trader Joe's has great prices and a wide selection of groceries. Meats, cheese and dairy, produce — they're all here. It also carries frozen foods and a number of unique items, along with wine, appetizers, and snacks.
Trader Joe's, 555 Ninth Street, San Francisco. (415) 863-1292.
http://www.traderjoes.com.
Runner-up
Safeway
Best Grocery Store (Independent)

Rainbow Grocery
B.A.R. readers love Rainbow Grocery, a worker-owned cooperative. Its claim to fame in the community is that it closes on Pride Sunday every year. Rainbow has an excellent selection of produce, spices, and other unique items.
The store has served San Francisco since 1975 and strives to offer the widest selection of organic and locally sourced products at the most affordable price. Along with being a grocery store, Rainbow is a resource for the community to exchange information about the health and sustainability of the foods people eat.
Rainbow Grocery, 1745 Folsom Street, San Francisco. (415) 863-0620.
https://www.rainbow.coop/.
Runner-up
Bi-Rite Market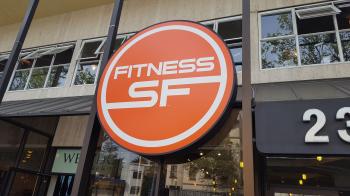 Best Gym

Fitness-SF
Fitness-SF in the Castro again won this category. The over 16,000 square foot facility offers two floors of tools and equipment to keep a person's workout fresh and challenging, according to its website. From free weights to cardio, the gym has it all.
The gym also offers nationally certified personal trainers.
Fitness-SF Castro, 2301 Market Street, San Francisco, (415) 348-6377.
https://fitnesssf.com/location/castro/.
Runner-up
24-Hour Fitness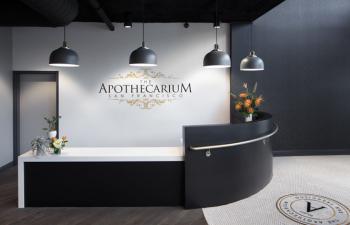 Best Cannabis Dispensary

The Apothecarium
Apothecarium in the Castro is a repeat winner. Readers like its mellow vibe and wide selection of products, including flowers, edibles, and more. Other locations include the Marina and South of Market. It offers products for medical and recreational use.
In February, as the B.A.R. reported, the Apothecarium announced it had entered into an agreement to be acquired by a publicly traded Canadian corporation.
The acquisition, valued at $118 million in cash and stock, was made in a joint news release by the Apothecarium and TerrAscend, a Toronto-based biopharmaceutical and wellness company that is focused on the cannabis market and operates a number of other entities, including a manufacturer and distributor of hemp-derived products.
The transaction is pending approval from regulators in California and Nevada, according to the Apothecarium.
The Apothecarium, 2029 Market Street, San Francisco, (415) 500-2620.
https://apothecarium.com/.
Runner-up
The Green Cross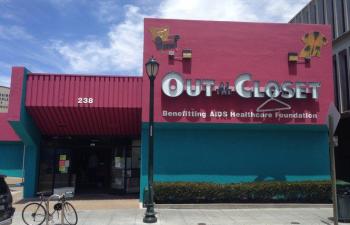 Best Thrift Store

Out of the Closet
Out of the Closet is a repeat winner. The stores — there are several in the Bay Area — are operated by the Los Angeles-based AIDS Healthcare Foundation. Sales raise money for the nonprofit. Stores offer clothing, books, DVDs, and other items. According to AHF, 96 cents out of every dollar collected by the thrift stores directly fund the agency's HIV/AIDS services in the U.S. and abroad. The Oakland store offers free HIV testing.
Out of the Closet, 1295 Folsom Street and 1498 Polk Street in San Francisco. (415) 558-7176 or (415) 771-1503. In Oakland, 238 E. 18th Street, (510) 251-8671.
http://www.outofthecloset.org.
Runner-up
Community Thrift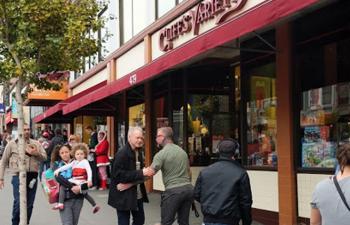 Best Variety Shop

Cliff's Variety
This is a new category this year, and Cliff's, a mainstay in the gayborhood for decades, is the winner. The family-owned store is beloved by locals and visitors alike. Stop by to peruse the eclectic mix of goods for the home and garden. Its website noted that the store carries everything from hardware and tools to cookware, garden supplies, toys, crafts, and gifts. It is recognized as a San Francisco Legacy Business.
Cliff's Variety, 479 Castro Street, San Francisco. (415) 212-8400.
https://cliffs-variety.business.site/.
Runner-up
Just for Fun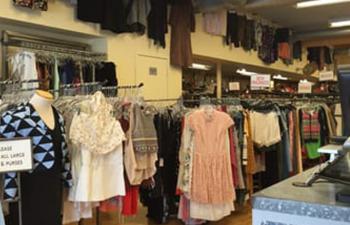 Best Vintage Clothing/Consignment Shop

Crossroads Trading Co.
After winning this category two years ago, Crossroads Trading Co. is back in first place, having been a runner-up in 2018. Customers sell their in-style, on-trend clothing and accessories for cash or trade credit on the spot. The website noted that stores are located in vibrant neighborhoods, each filled with the clothes you want at prices you can't resist.
Right now, shop for spring at one of several Bay Area locations. Its website features a selling guide and four ways to sell your clothes.
In addition to San Francisco, there are shops in Berkeley, Oakland, and San Jose.
Crossroads Trading Company, 2123 Market Street, San Francisco. (415) 552-8740.
https://crossroadstrading.com/
.