Besties: Community: SF LGBT center tops in Bay Area
Wednesday Apr 3, 2019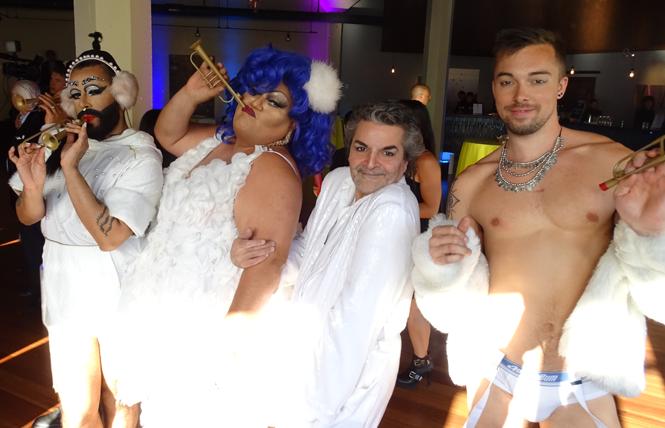 Best LGBT Nonprofit

SF LGBT Community Center
This year, the Besties made this category all about local LGBT centers. When the ballots were counted, the San Francisco LGBT Community Center topped the field.
Since opening its doors in 2002, the SF center has served tens of thousands of LGBTs. Its mission is to connect the community to opportunities, resources, and each other to achieve a more equitable world. With over 200 programs surrounding housing, health, legal, and employment, the center has become the "heart, home, and hands of the San Francisco LGBT community," states its website.
It also rents out space to various nonprofits, such as the San Francisco Community Health Center, which has its Castro clinic there.
Roberto Ordeñana, a gay man who's deputy executive director of the center, thanked Bay Area Reporter readers for the recognition.
"An enormous thank you to all those readers who chose the center for this amazing recognition; we are honored to receive it," said Ordeñana. "While the presidential administration continues to target the most vulnerable among us — and while many of us face increasing challenges due to the affordability crisis facing the Bay Area community — this building has never been more important."
He also mentioned the center is about to launch the city's first Youth Host Home program that matches homeless youth to individuals and families that have a spare bedroom to share.
The center's annual fundraiser, Soiree 2019, will be held Saturday, April 13, from 5 to 11:30 p.m. at Terra Gallery & Event Venue, 511 Harrison Street. Drag queen and event maven Juanita MORE! returns as the entertainment director for a night of celebration, entertainment, and dinner. For more information, head to
https://www.eventbrite.com/e/soiree-2019-tickets-54722022041.
SF LGBT Community Center, 1800 Market Street, San Francisco. (415) 865-5555.
http://www.sfcenter.org/.
Runner-up
Oakland LGBTQ Community Center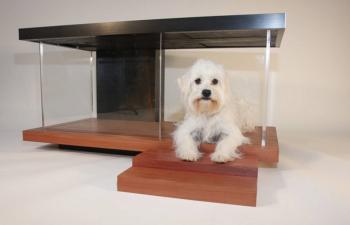 Best Health-Related Nonprofit

Shanti Project
The Shanti Project has been enhancing the quality of life for people suffering from life-threatening or chronic illness since 1974. It offers a vast array of services including in-home and onsite patient and care navigation, HIV/AIDS services, and a drop-in service center. Through its Pets Are Wonderful Support program, which it took over a few years ago, the agency offers emotional support through human-animal bonding.
Shanti Executive Director Kaushik Roy expressed his gratitude for winning Besties 2019.
"What a tremendous honor. At Shanti, we don't think about awards when we visit a severely isolated aging LGBTQ client at their home, or accompany a woman with cancer to her chemotherapy appointment," Roy said. "And our volunteers don't think about high ratings when they drive a client and her sick beagle to a vet appointment. But today we will stop to celebrate the award and, of course, thank B.A.R. readers for the recognition."
In 2001, Shanti expanded its services to include care for women's cancer through its Margot Murphy Women's Cancer Program.
Its Petchitecture fundraiser is coming up June 6.
Shanti Project, 730 Polk Street, San Francisco. (415) 674-4700.
http://www.shanti.org/index.html.
Runner-up
St. James Infirmary
Best HIV/AIDS Nonprofit

San Francisco AIDS Foundation
Since its 1982 inception, the San Francisco AIDS Foundation has fought to build a community where HIV transmission is rare and those living with it have long and healthy lives. The nonprofit offers free community services including sterile needle exchange, HIV/STI testing, education, counseling, and support groups. The foundation is also one of the nation's leading voices on HIV-related policy issues.
Several years ago it opened Strut, a men's health center in the Castro.
Joe Hollendoner, a gay man, has been the foundation's CEO since 2016. He told the B.A.R. that the organization will stop at nothing to achieve its vision.
"San Francisco has become an international model in the fight to end AIDS because of the support of this community. Ending HIV infections is an ambitious goal, and there is still much work left to do," Hollendoner said. "Racism, homophobia, transphobia, poverty, and homelessness restrict our city's progress but San Francisco AIDS Foundation is committed to a future where health justice is achieved for all people living with or at risk for HIV. Together, we will make this vision a reality."
In partnership with Dining Out For Life San Francisco, SFAF will host Dining Out For Life 2019 April 23. Multiple participating San Francisco restaurants will donate 25 percent of patrons' bills to the foundation. A list of restaurants can be found at
https://www.facebook.com/events/529312110812047/.
San Francisco AIDS Foundation, 1035 Market Street, San Francisco. (415) 487-3000.
http://sfaf.org/.
Runner-up
Project Open Hand
Best LGBT Event

Folsom Street Fair
Once again, the Folsom Street Fair takes the number one spot as the favorite LGBT event. Every September, it brings more than 250,000 leather, kink, and fetish enthusiasts to the event that's spread out over 13 city blocks in the city's South of Market neighborhood. The day of the fair, Folsom Street is transformed into the world's biggest leather event with 200 vendors, multiple stages, and live BDSM demos.
The fair began as a way to bring visibility to the leather community after the forced closure of many BDSM establishments in the city during the height of the HIV/AIDS epidemic.
Annually, hundreds of thousands of dollars raised from beverage sales, gate donations, and party tickets is funneled back to the community to nonprofits. This year's fair will be September 29.
www.folsomstreetevents.org.
Runner-up
Castro Street Fair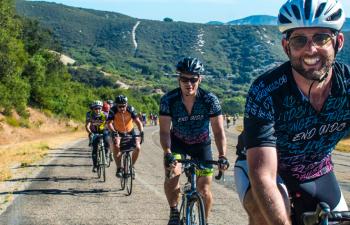 Best LGBT Fundraiser

AIDS/LifeCycle
Thousands of cyclists will ride mostly along the California Coast from San Francisco to Los Angeles in the weeklong AIDS/LifeCycle fundraiser June 2-8. This will be the 17th year of the 545-mile journey that raised over $16 million last year. Donations benefit the San Francisco AIDS Foundation and Los Angeles LGBT Center, which jointly produce the event.
Ride director Tracy Evans talked to the B.A.R. about the experience.
"Spending seven days with AIDS/LifeCycle, whether you're on a bike or volunteering, is an experience that people remember for their entire life. The 'spirit of the ride' is truly unique, as are every one of our 3,000-plus participants," said Evans. "People from all over the world come together to help us get closer to a world without HIV/AIDS. And it's a whole lot of fun."
The most important training day for participating riders, Day on the Ride, which simulates an actual day of AIDS/LifeCycle, is April 13 in San Francisco. For more information, visit
https://www.aidslifecycle.org/event/sf-day-on-the-ride/.
AIDS/LifeCycle, (866) 245-3424.
http://www.aidslifecycle.org.
Runner-up
GLBT Historical Society Gala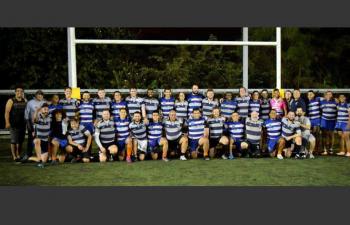 Best LGBT Sports League

SF Fog Rugby
Once again, B.A.R. readers have chosen the San Francisco Fog Rugby Football Club, best known as "The Fog," as their favorite LGBT sports league. Founded in 2000, it's the first gay and inclusive rugby club on the West Coast. It started after Jason Reimuller and Mark Bingham, along with Derrick Mickle, played together in a gay flag football social club and bonded over their love of rugby.
"The Fog is honored to be chosen by the SF community as 'Best LGBT Sports Team' for 2019," said Tony Folenta, vice president of marketing for the Fog. "Fog Rugby strives to create an inclusive environment for anyone with an interest in rugby to come out and learn a new sport with a close-knit family of players. We welcome all backgrounds, skill levels, and sexual/gender identities, and we're proud to have been serving the community for nearly 20 years."
Bingham died on September 11, 2001. He was a passenger on United Airlines Flight 93 that crashed into a Pennsylvania field. On April 26, the team and the new Disco Coalition will co-sponsor a happy hour at the Lookout, 3600 16th Street, from 5 to 8 p.m. to honor Bingham. More information can be found at
https://www.facebook.com/events/2114659438609612.
http://www.fogrugby.com.
Runner-up
San Francisco FrontRunners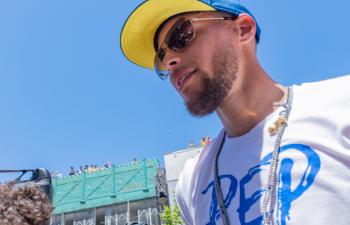 Best Bay Area Pro Sports Team

Golden State Warriors
It's no wonder B.A.R. readers chose the Golden State Warriors as their favorite pro team. The team has won back-to-back National Basketball Association championships, and three titles in the last four years. They are slated make another run at the championship in the playoffs, which start April 13. Over the years, the team has hosted LGBT Pride events.
"We are incredibly honored to be recognized by the readers of the Bay Area Reporter and the LGBT community in general," said Rick Welts, a gay man who is the Warriors president and chief operating officer. "Our organization prides itself on the diversity of our fan base and we are thrilled to be included on this list of LGBT favorites."
The Warriors will play next season at the new Chase Center in San Francisco.
https://www.nba.com/warriors/?.
Runner-up
San Francisco Giants