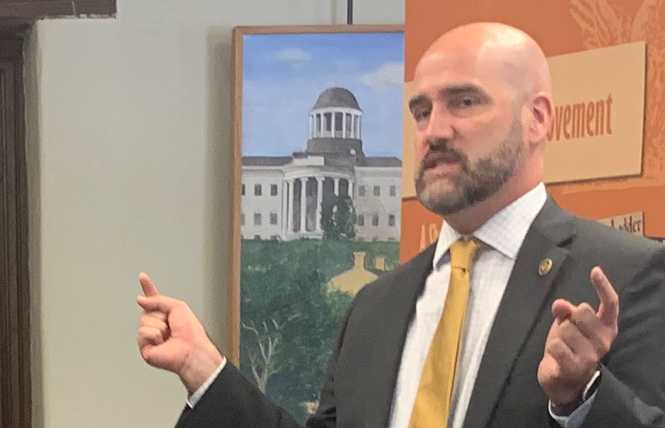 While often diminished and constantly overlooked, our LGBTQ history is rich with significant events, especially throughout the 20th century.
Viewing 1 thru 12 of 793 Stories
To visitors of all ages, sexualities, and identities, the one comment I hear the most when I'm a docent at the new South Bay queer museum exhibit is, "I didn't know any of this."
Gay state Senator Scott Wiener writes about the highs and lows for LGBTQs of the just-completed legislative session.
In San Francisco those of us who are Democrats dominate politics in the city.
Despite former President Donald Trump's reelection defeat last year, in recent times, we have seen the manifestation of Trumpism as his political allies across the country continue to target our democratic institutions and our most vulnerable.
The Leather & LGBTQ Cultural District, created by the San Francisco Board of Supervisors in 2018, is 22 city blocks in the South of Market neighborhood that have been home to numerous leather and kink venues since the 1960s.
When the COVID-19 shutdown began in the spring of 2020, I posted on Facebook that I expected the pandemic to be, for me, a pain in the ass, a royal pain in the ass.
Homophobes don't belong in the Democratic Party.
This week's letters offer opinions on the B.A.R.'s tobacco ads in the print edition, the rainbow flag flap, and support for the Alameda Democratic County Central Committee's new bylaw change.
Members of several Pacific Islander groups in San Francisco urge LGBTQs not to support the recall of school board Vice President Faauuga Moliga.
Former San Francisco Supervisor Jeff Sheehy discusses controversy surrounding Gilbert Baker's rainbow flag in the Castro.
In 1977 I escaped from the Midwest and arrived in our gay haven, the Castro. Even though I was in my early 30s I did something a young person would never be able to do today ... buy a fixer in District 8.
Governor Gavin Newsom has been a champion of LGBTQ+ equality for decades. Full Stop!
Viewing 1 thru 12 of 793 Stories